Thomas R. Adkison (1917-1986)
Tom Adkison was born in White Bird, Idaho in 1917. He graduated from the University of Washington in 1947, and making to Spokane that same year to began practicing architecture, joining into a partnership with Royal McClure. McClure was in the same graduating class as Adkison at the University of Washington, and the two worked together during their education with Seattle architect J. Lister Holmes. The duo practiced architecture together in Spokane from 1947 to 1967.
During these two decades, the firm helped establish modern architecture in Spokane. Some of their designs together include Miesian Style Studio Apartments, Stephan Dental Clinic, Cornelius House, and acclaimed modern studio apartments on Spokane's South Hill. The firm's achievements were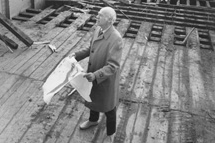 monumental. They were published in progressive architecture books and journals and two of their projects, including the Studio Apartment, were selected by the Museum of Modern Art (MoMA) in New York as standing exhibits in the museum's architectural division. Other designs of theirs in Spokane from the 1950's and 1960's include the Meenach House, Unitarian Church, John F. Kennedy Pavilion at Gonzaga University, Joel E. Ferris High School, and a team effort with other Spokane architects to design the U.S. Courthouse and Federal Building. Their work together was published in several well respected architectural publications such as Architectural Forum, Arts & Architecture and Progressive Architecture. Both Adkison and McClure were active in the Spokane chapter of the American Institute of Architects (AIA) and local politics concerning architecture, serving on local and regional committees and boards such as the Planning Association of Washington. When McClure decided to begin an independent practice in 1967, the firm became known as Thomas R. Adkison from 1967-1970, and Adkison Architects from 1970 to 1973.
The 1970's brought exciting life to Adkison's architectural practice. In 1973, the firm expanded, becoming ALSC (Adkison Leigh Sims & Cuppage). In 1974 came one of Adkison's greatest challenges, as he was made the Executive Architect for Expo '74 Worlds Fair, a project that demanded a massive development of Downtown Spokane's industry areas along Spokane Falls and the Spokane River. Adkison's design for the Expo, filling the area around the falls with exhibition halls and event venues, was visited by five million people in the six months that it was open. While only a few structures remain from Expo '74, Adkison's impact on the area can still be seen today's Riverfront Park, a vast different environment than what Adkison inherited before the redevelopment. Click here for more information on the history of Riverfront Park.
The firm that Tom Adkison gave his life's work towards survives to the present day as on of the Inland Northwest's most prominent architect firms, continuing on under the name ALSC Architects. Thomas R. Adkison passed away in 1986 in Spokane, leaving behind a legacy as an establishment figure of Modern Architecture in Spokane.
Clink here to see the Spokane Mid-Century Architectural Survey Report for more information.
[nggallery id="16″]
Sources:
Docomomo WEMA. "McClure, Royal A." www.docomomo-wewa.org. http://www.docomomo- wewa.org/architects_detail.php?id=115
ALSC Architects. "Legacy". http://www.alscarchitects.com/about-alsc-architects/legacy/. Accessed October 10th 2017.