How to Research Your Property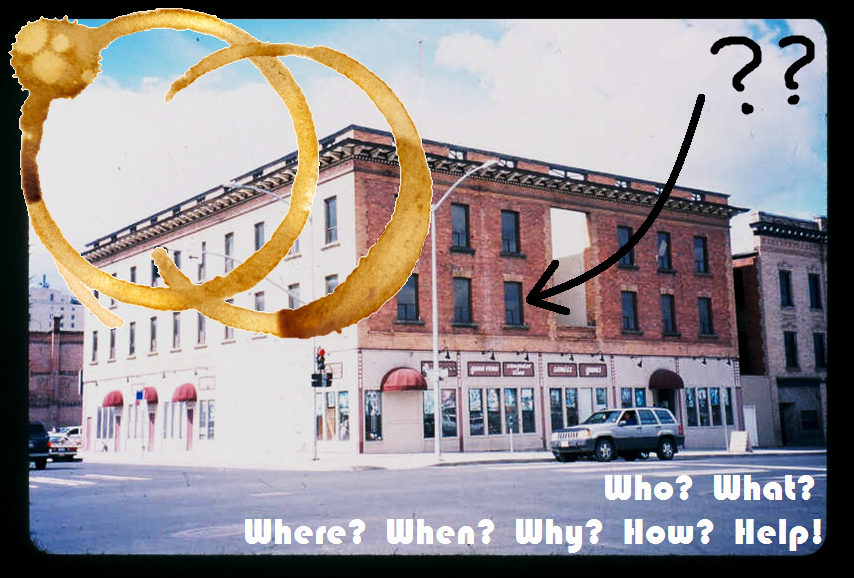 Researching the history of your property, whether it's a house or entire city block, can seem like a daunting task and many are unsure where to even start.  But fear not!  There are amazing resources available that can help you when conducting research on historic properties in Spokane County.  Whether you are researching the history of a house and who lived there, are searching for historic photographs, or are interested in finding your property on older maps, you're sure to find a wealth of information below…
The process of uncovering the hidden history of your property can be immensely rewarding and fun.  Plus, you never know what you'll uncover…Happy Researching!
---
Information
House History
A great place to start when you're looking for any information on your property, the style it's built in or the historic context of Spokane, is, of course, the Spokane Public Library.  Be sure to check out their website on House History for research tips on finding information on previous owners, a house's history and legal descriptions.
The Washington Information System for Architectural and Archaeological Records Data (WISAARD) is another incredible repository of information.  You can search for any property in the state of Washington that has been inventoried, surveyed or listed by address, historic name, architect, etc.  Inventories usually consist of a property's history, an architectural description and photographs.
The Washington State Digital Archives is the nation's first archives dedicated specifically to the preservation of state and local electronic records, meaning it grants public access to both digitized ("scanned in") and born digital records of legal, fiscal and historical significance.  Their website allows one to search by the name of an individual or by perusing a variety of collections, such as "Family Histories" and "Olmsted Project Records," that would be useful when conducting research on a property.
Northwest History
The downtown branch of the library is also home to the Ned M. Barnes Northwest Room, a repository of over 13,000 items, dating from the late 1700s to the present, that pertain to the history, exploration and settlement of the Northwest. This includes reference books, photographs, maps, periodicals, government documents and other archival materials. Be sure to the check out their website for information on the collection and how to conduct research in their archives.
Newspapers
Newspapers are another great source of information and can provide information on important individuals and events in Spokane's history (through news articles, obituaries, etc) and can also provide insight into building trends.  Five of Spokane County's newspapers have been scanned and archived, several of which are searchable.  Click on one of the newspapers below to get started!
 Historic Books
In 1912, Nelson Wayne Durham, a former editor of the Spokesman-Review, authored a three-volume book entitled History of the City of Spokane and Spokane Country, Washington: From Its Earliest Settlement to the Present Time.  Complete with pictures, it provides a unique viewpoint of the city and county in the early 20th century and is fully searchable.  Click on a volume below to get started!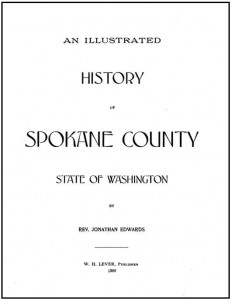 Is your property outside the City?  You can always search Jonathan Edwards' An Illustrated History of Spokane County, State of Washington which traces the history of the County from its frontier beginnings to 1900.  Click below to browse the fully searchable text.
Additionally, there are wonderful historic books at the Northwest Room in Spokane's Downtown Public Library.  As with any archive, call ahead to confirm hours and how to handle the historic documents.
Photographs
One of the greatest collections of photographs of historic Spokane would be the Libby Studio Photograph Collection which is held at the Northwest Museum of Arts & Culture (MAC) in the Joel E. Ferris Library and Archives.  The collection documents virtually every aspect of the city's life from 1900 through the 1950s.  Photographs depict streets, neighborhoods, public buildings, businesses, residences, as well as the economic and social activities of people in all walks of life.  Check out their website below for information on how to utilize the Libby Photographs and other collections.
The Ned M. Barnes Northwest Room at the Downtown Spokane Library also has some of their photograph collection digitized.  Their collection contains historic photographs of Spokane buildings, streets, bridges and county schools and missions, all of which is searchable.  Click on the picture below to get started!
The Washington State Digital Archives is another fantastic source of historic photographs of Spokane and Spokane County.  Click on the image below and search for "Photographs" under the record series and select "Spokane" as the county.
Maps
The Map Collection at the Ned M. Barnes Northwest Room contains a variety of maps that cover different aspects of exploration and development of the region.  Click on the image below for more information on accessing the collection.
The Washington State Digital Archives is another great source of maps of Spokane and Spokane County.  Click on the image below and search for "Map Records" under the record series and select"Spokane" as the county.
Sanborn Fire Insurance Maps, which are large incredibly detailed maps, provide an enormous amount of information about a property.  Sanborn maps include outlines of each building, location of windows and doors, property boundaries, building material and use and much more.  Sanborn maps for Spokane begin in 1884 and were periodically updated to 1952.  Click on the image below for the Sanborn maps that can be found at the Spokane Public Library.
Official Records
Building Permits
Starting in 2014, Integra removed the microfiche (containing pre-1993 building permits) from City Hall and started scanning the files for digital storage.  The project was completed in 2016 and historic building permits for the City of Spokane are now available online.
Legal Documents
The Washington State Digital Archives is a great place to look for historic, legal documents.  Their searchable collections includes birth, marriage and death certificates, census records, military records and more.
To locate the original deed and other real estate documents, contact the Spokane County Recording Department which is located in the Spokane County Courthouse.  Their website provides information on how to do a title search and locate a property's deed.
Assessor Information
The Spokane County Assessor's Office provides official information on property value but can also include detailed information on additions, remodels and materials.  Their website is searchable by address and parcel number.