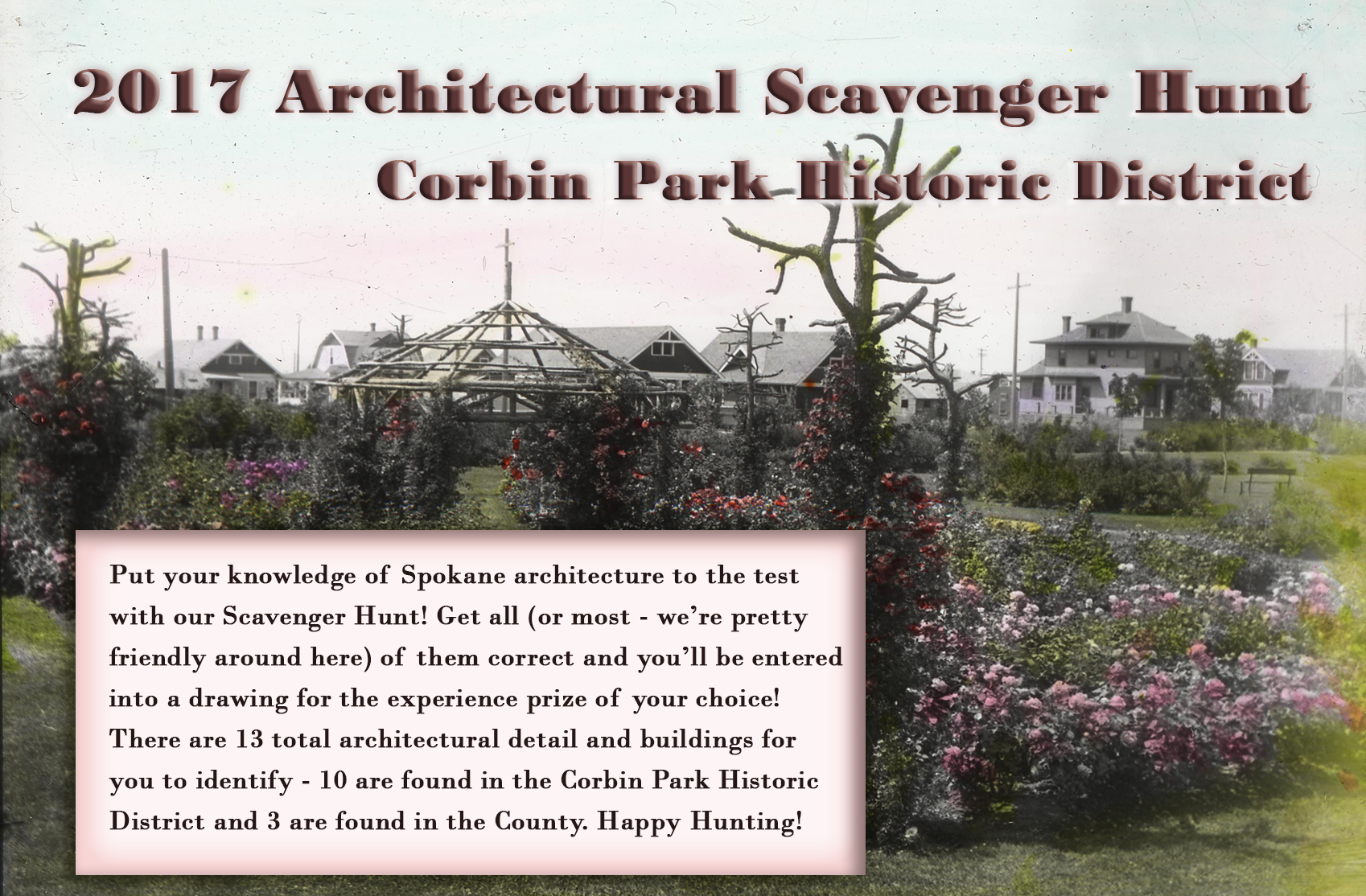 The rules are simple! Scroll down to the form and enter your name, email and select what prize you're interested in. Once you've figured out which house each clue belongs to, enter the home's address in the box below the picture and you're ready to submit your entry. The form will disappear after it's been submitted successfully. And that's it!
Click on the giant "Downloadable Scavenger Hunt Map" to download our scavenger hunt handout which you can print and carry with you. You can print out the pictures to take with you on your hunt, as well, by clicking "Download Pictures."
This year's hunt takes place in the Corbin Park Historic District, which originally served as Spokane's fairgrounds and racetrack in the late 1800s. Locate the ten architectural clues scattered throughout the Corbin Park Historic District, then enter to win one of our historic experience prizes. Since this year's hunt is situated around Corbin Park, we're not giving you the clues in any particular order – that would be too easy! You're going to have to really look at the clue photos and each house as you walk the park…we don't just give these prizes away – you have to work for them!
There are also three bonus clues for properties located within Spokane County. In a play-off of the Mid-Century Modern release every week on our Facebook page and our new website, the county properties are all designed and built in the 1950s and 60s. These clues are extra challenging and are for hardcore history buffs and architecture lovers!
You have until May 31st to complete the hunt! One entry per person, please, but each prize is good for you and a guest! Happy Hunting!
What
experience

are you interested in?…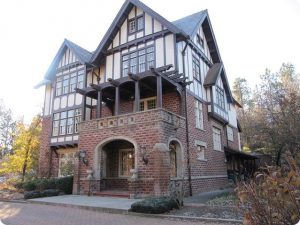 A Private Tour the Nuzum House – Designed by Spokane's famed architectural firm, Cutter and Malmgren, the Nuzum House was home to one of Spokane's most prominent attorneys for decades. Richard and Jessie Nuzum purchased the home in 1916, and resided in their Marycliff-Cliff Historic District home for over 30 years. Because the home is a private residence, this is a rare opportunity to tour the interior of a beautiful American Tudor Revival home.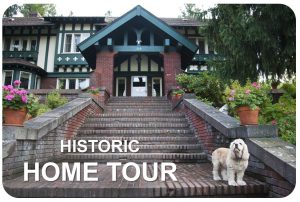 Two Tickets to Spokane Preservation Advocate's Historic Home Tour – SPA's Historic Home Tour, held in the fall, is a popular annual treat! Join SPA for a walking tour of historic homes in a beautiful Spokane neighborhood. You'll visit a selection of historic residences with stunning architectural details and interior designs. Stroll through colorful, landscaped grounds and discover the histories of people who lived in each house. This is a great opportunity to see homes and gardens that have never before been open to the public! To learn more about the tour click here!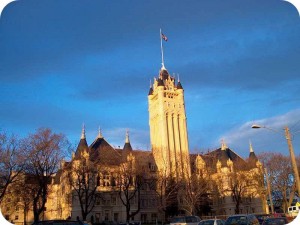 A Private Tour of the Spokane County Courthouse – Built in 1894 and one of the finest examples of French Renaissance architecture in the West, the County Courthouse dominates the Spokane skyline. Architect Willis Ritchie's design was chosen through a design competition in 1893 and the Courthouse has been the seat of Spokane County government since 1895. But don't let us tell you about it! You'll learn all about the building on your private tour which includes a trip to the top of tower! That means tackling a lot of stairs so be prepared!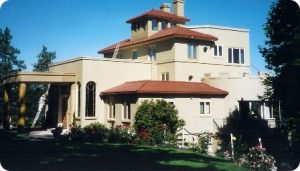 A Private Tour of the Dill House – Constructed in 1941, the Dill House is situated on a sheer cliff overlooking Spokane and the nearby northern mountain peaks. The house was constructed for the former United States Senator Clarence Cleveland Dill and was designed in the Spanish Eclectic style by architect Frederick E. Westcott. This grandiose six-story home is one of the largest single-family dwellings in Spokane. This is an amazing opportunity to take in a spectacular view of the city and explore a private home that is not open to the public!
Remember – enter the property address below each clue! Happy Hunting!
[ninja_form id=13]