Union Park Bank/ More Better Antiques
Year Built:  1907
Style:  Commercial, Vernacular
Address:  2002 E Sprague
The More Better Antiques Building was built in 1907 and housed the Union Park Bank on the lower floor while the second floor was used for other businesses over the years.  It is a visually stunning, ornate, two-part commercial block. The building's primary facades are on the north and west sides and utilize light and dark brick to create geometric patterns surrounding windows and entrance ways. The majority of the bank customers were mechanics, artisans and owners of the small local businesses located nearby. The bank relocated in 1917 and in 1929, the building was the home of C.E. Marr Grocery. C.E. Marr was a highly successful businessman and owned more than 1,000 grocery stores in the west. He and his wife owned the Bozarth Mansion (formerly Waikiki Mansion), now owned by Gonzaga University. He eventually sold all of his stores to Safeway, Inc.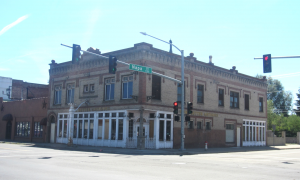 Over the years, the upper floor of the Sprague building housed printer A.D. Gaisford, the Power City chapter of the Independent Order of Odd Fellows, the Dillard C. Runyon Post 3064 of the Veterans of Foreign Wars and the Spokane Dog Training Club. Other businesses located on the lower level include: Post Office Station B, Silver Streak Beer Parlor, Roberts Tavern and Napa Tavern.
A fire in May 1984 caused substantial damage to the interior and has been vacant since 1987.  Interestingly, the original clock base still stands on the north side of the building, but, alas, the clock is missing.
The building, which represents the commercial development along Sprague Avenue in the East Central neighborhood, is a significant and architecturally stunning example of vernacular brick construction. Due to the buildings high level of integrity and its association with the evolution of East Central, it would absolutely be eligible for listing on our Spokane Register.
The building has two significant ghost signs (seen below): An advertisement for a furniture store is on the south (rear) side and the other is on the east side above the roof line of the neighboring building but is too faded to decipher (possibly an advertisement for cigars).
History prepared by Jessica Bell and the Spokane City/County Historic Preservation Office