Sperry Flour Mill/ ADM Mix Plant
Year Built:  1919
Style:  Industrial
Address:  1131-1215 E Sprague Avenue
The Sperry Flour Mill was built in 1918, immediately following the end of WWI, but was not operational until early 1919, with the first carload of flour going out on April 14. With a total capacity of 2,000 barrels a day, the new Sperry Mill in East Central more than doubled the capacity of all other Spokane flour mills combined. Touted as the "finest flour milling plant in the world," the mill opened under the management of "veteran grain man," J. K. Smith. With its dazzling white interior and stately brick with terra cotta detailing exterior, the mill was both a beautiful and functional addition to the East Central neighborhood.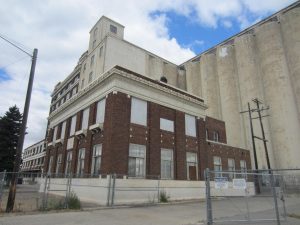 Now under the direction and name of ADM Mix Plant, the mill, which has expanded over the years, continues to operate as an industrial, processing facility. Continuing to look and act very much as it did in 1919, the Sperry Flour Mill possesses excellent integrity and would be eligible for listing.
The milling complex includes many buildings that have been built during the last century.  The office building, with its lovely metal canopy, and the flour mill, which has its main doorway topped with a shield and wheat stalks, are the most ornate of the buildings.  However, the bank of 24 silos behind the office and flour mill are the most visually dominant buildings.
Images left to right: November 9, 1919 Spokesman-Review advertisement; tiled mosaic on south facade of the office building; 1928 Sperry Flour truck [MAC L87-1.36835-28]; terra cotta shield with "SF Co." and wheat stalks above main entrance.