Pay'n Takit/ Safeway/ Best Asian Market
Year Built: 1933
Style:  Art Deco
Address:  2022 E Sprague Avenue
This building is a unique and architecturally stunning member of the East Central community. It started its life as one of the few Safeway stores in the Spokane area. Built in 1933, the store was originally a Pay'n Takit, a chain of grocery stores which Safeway acquired in 1928. The store's parking lot was also built at the same time, anticipating the growing reliance on automobiles.  The store served the residents of East Sprague and other nearby communities.  In 1951, for example, the Safeway store in Dishman was destroyed by a fire and newspaper advertisements encouraged inconvenienced shoppers to visit the Safeway store on East Sprague "to find the same fine foods and the same low prices!"  Safeway eventually moved out of the location after I-90 droves business away and the building later served as a CETA assessment site, Crazy Trader and, in 1981, it was known as Bargain Mall. The building was purchased in 2005 and renovated to become Bay Oriental Market, known more commonly as Best Asian Market. It remains today.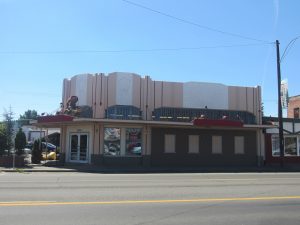 The building is a stunning Art Deco commercial building in the East Sprague commercial district. It is a rectangular, one story, one-part commercial block with a flat roof, ornate parapet and stucco siding, painted a light beige/pink. The exterior features classic Art Deco stylings such as simple, streamlined, geometric forms, sunbursts and the repetition of these forms. The building has white starburst and wheel art deco bas relief panels on the two primary facades (north and east) and the main entrance is found on the chamfered northeast corner.
The building retains excellent architectural and physical integrity. It documents the commercial evolution of East Central, is associated with significant Spokane enterprises and is architecturally significant.
Middle image: north facade
Lower images left to right, advertisements from: August 14, 1941 Spokane Daily Chronicle; April 23, 1953 Spokane Daily Chronicle; April 23, 1953 Spokane Daily Chronicle; July 20, 1951 Spokane Daily Chronicle