Pacific Avenue Christian Church/ Zion Temple Church of God
Year Built:  1910
Style:  Vernacular, Gothic
Address:  2430 E Pacific Avenue
The origins of the Pacific Avenue Christian Church reach back to 1898 when Rev. B. E. Utz, pastor of Central Christian Church, saw a need for a congregation in the Union Park region of Spokane. In 1900, he organized a small group in the Vipond Building in the 1900 block of East Third. They then moved to Third and Napa, Fourth and Napa and finally, Pacific and Cook. Once known as Bethany Christian Church, the congregation was officially established in 1907 with 75 members. Rev. A. C. Downing (of Garfield, WA) became the first pastor in the fall of that year. Rev. W. A. Gressman was pastor from 1919 to 1921. In 1951, under the ministry of Rev. Fred Orr, $12,000 was used to enlarge the church. The large, one story building on the south side was bought from the former Farragut naval station and converted into Sunday school classrooms. Rev. Thomas B. Yates served as interim pastor in 1967.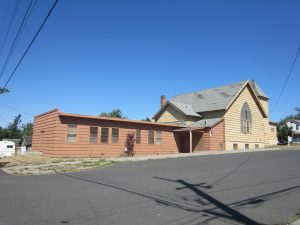 Later, in 1967 or 1968, the church became Zion Temple Church of God with Luis Solomon as pastor. It remained an active place of worship until 2015. Despite major alterations, the church still retains some architectural integrity, as seen in its pyramidal, witch's hat steeple roof and decorative, tracery in the pointed arch windows. It would not qualify for listing under Criterion C but could be eligible for listing on the local register under Criterion A, for its contribution to the development of the East Central neighborhood and the Union Park area.
The building itself is a one story building with a cross gable roof, overhanging eaves and inset steeple with a slightly flared, pyramidal roof on the northeast corner.  The church is a vernacular building but possesses some Gothic elements as seen in the arched windows.
Top image: Pacific Avenue Church in 1913 from May 20, 1967 Spokesman-Review article
Lower images left to right, articles from: December 13, 1951 Spokane Daily Chronicle; February 4, 1921 Spokane Daily Chronicle; July 20, 1921 Spokane Daily Chronicle; May 20, 1967 Spokesman-Review