Kenneth W. Brooks (1917-1996)
Kenneth Brooks was born in Cedarvale, Kansas on June 9th 1917. After attending high school in Independence, Kansas, Brooks attended University of Illinios, receiving a Bachelor's degree in architectural engineering in 1940. While attending the university, he was awarded a six month travelling fellowship in Europe, which he would use following his upcoming service in the military.
During the Second World War, Brooks served in several different positions. Between 1941 and 1943, he served with the U.S. Engineers in the Caribbean, and from 1944 and 1946 with the U.S. Marine Corps as a night fighter director and construction officer. After the war, Brooks spent about a year in New York.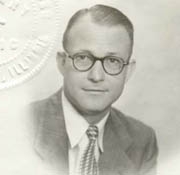 There he worked for the New York office of Skidmore Owings, & Merrill. During his time in New York, Brooks took and passed the National Council of Architectural Board exam and became a licensed architect in the state. Brooks then decided to make the jump out west, and moved to Spokane in 1948. In Spokane, he worked for George M. Rasque, an architect who was known for his designs of several Spokane schools. However, after only a few months of working under Rasque, Brooks went on his fellowship to Europe. Living in Sweden, he worked with the Town Planning Offices of Stockholm and Goteborg. After his six-month fellowship, Brooks returned to Spokane, and looked to establish his name as an architect.
Upon his return to Spokane, Kenneth Brooks was hired by the architectural firm of Carroll Martell Architects. However, still finding himself unsatisfied, Brooks decided to continue his education, and returned to the University of Illinois to receive a Masters in Architecture degree. In 1949, at 34 years old, and with a degree in hand, Brook once again returned to Spokane. He opened his own architectural firm in 1951. His firm, and name, quick received credibility within the architectural community.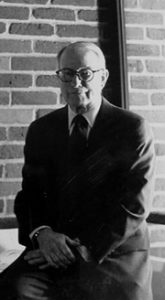 In addition to his own practice, Brooks became invested in the large scale and long term plans of Spokane. He found Spokane to be conservative, unwilling to take on innovation, especially in regard to the city's architecture. Due to this, Brooks became very active in civic affairs, particularly in urban design, regularly delivering papers or lecturing to a wide range of audiences on such topics as urban design, city planning, transportation, and Modern architecture. Some of his civic involvements include: President of the Spokane Municipal League, member of the Spokane Planning Commission, President of the Spokane Chapter of the AIA, member of the Washington State Arts Commission (1961-68), member and first chairman of the National Urban Design Committee (1960-65), Chairman of the Jury of Fellows for the AIA (1971), member of Governor Evans' Executive Committee "Design for Washington" (1965), and member of the Spokane Parks Board.
In 1970, Brooks joined a partnership with architects Joseph Hensley and Fred Creager. Over the next fifteen plus years, Brooks, Hensley, & Creager received high architectural acclaim at the local, regional, national, and international levels. Some of his most recognizable buildings in Spokane, either as an individual or in partnership, are the First Church of Christ, Scientists, Washington Water Power (Avista) Centeral Service Facility, Vern W. Johnson House, and Brooks House. His design for the Intermountain Gas Company Headquarters in Boise, Idaho won a National Award of Merit from the AIA in 1966. He also helped design several buildings for Spokane's Expo '74. The Washington Water Power project was perhaps his largest. Brooks received the high profile corporate headquarters commission in 1959. His design called for a five-story, curtain wall office building, a 300-seat auditorium and cafeteria, and several service buildings and shops, all set among a 28-acre park. The $7.5 million dollar project brought Brooks many commissions and acclaim and established him as one of the top architects in the Inland Northwest. The building, the design receiving the National American Institute of Architects Honors Award, was also the first major structure built in the modern design in the city and inspired a modern design movement in Spokane. Kenneth Brooks retired from his architecture practice in 1991, and passed away on August 8th, 1996.
Clink here to see the Spokane Mid-Century Architectural Survey Report for more information.
Sources:
Houser, Michael. "Kenneth W. Brooks." Washington State Department of Archaeology and Historic Preservation. 2012. (http://www-stage.dahp.wa.gov/learn-and-research/architect biographies/kenneth-brooks)
Washington State University. "Kenneth W. Brooks". (http://ntserver1.wsulibs.wsu.edu/masc/masctour/brooks/exhibit1.htm)