Welcome!
The Spokane City/County Historic Preservation Office and the Spokane Historic Landmarks Commission are local government programs that share responsibility for the stewardship of historic and architecturally significant properties within the City of Spokane and unincorporated areas of Spokane County.  This website provides information about Spokane's history, historic properties and districts as well as assistance with these important preservation tools:
The Spokane Register of Historic Places
Design Review for designated historic buildings
Local financial incentives for historic property rehabilitation
Certified Local Government programs
Spokane Historic Landmarks Commission – Next Meeting: May 4, 2016 (special) 
---
---
Centennial Celebrations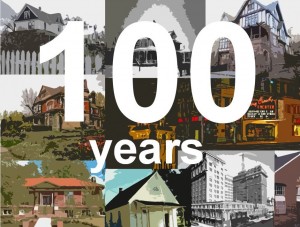 From commercial blocks to homes and everything in between, we have over 300 properties listed on the Spokane Register of Historic Places!  The oldest listed building is the 1879 Strong House while the "newest" building is the Foltz House, built in 1958.  That's almost 80 years of Spokane's history told through the built environment!  As each of these buildings reaches its 100th year, we want to help celebrate such a milestone by awarding our Centennial Certificate!
Want to check out all of the properties on the Spokane Register that have turned 100?
Click on the image to see them all!
---
Spokane Preservation Timeline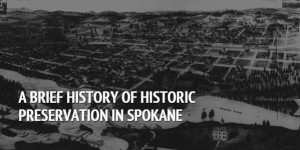 Have you ever been curious about how our city and nation have worked to protect historic buildings and resources? We know you have!  Say, just how old is the National Register anyway?  What are some of Spokane's major preservation accomplishments?  What's the first property listed on the Spokane Register?  And just when did the Historic Preservation Office come into existence?  Find out these answers and more by perusing our Preservation Timeline!  Click on the picture to get started!
---
The First German / Arthur Street / St. Matthew's Baptist Church Inventory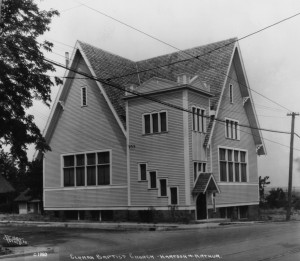 Have you always been curious about the church on the corner of Arthur and Hartson and wondered what its story might be? Wonder no more! The Historic Preservation Office for the City/County of Spokane recently completed an intensive level inventory of the church.
Who built it and when? How many different congregations used it? Does it play a part in the Civil Rights Movement in Spokane? Find out these answers and more by clicking on the picture!
---
Interactive Map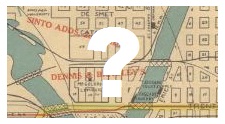 Whoa!  We have a new map of all the historic properties in Spokane County up and running!  You can see the link on the right hand side of the page or click the question mark to get started.  You'll be able to read about the history and architecture of each property and see it in its proper geographic context.  Ever wonder how many historic homes are near you? Go ahead and get clicking to find out!
---
 New Heritage Barn Website
Want to learn more about those gigantic and gorgeous barns you keep seeing when driving through Spokane County? Do you think your family's barn deserves recognition?  Check out the new Spokane County Heritage Barn Register website to learn all about our agricultural past and how to list a barn!  Click on the picture below to get started!